Thanks to our many generous supporters, our $7.8 million Building on Excellence, Guided by Faith building project is taking an already incredible school to the next level with the addition of the 650+ seat Drees Homes Auditorium, art gallery, Fine Arts classrooms,...
read more
Questions?
Beckie D. Middendorf
Advancement Director
BA in Journalism / Marketing Minor
Phone: 859.525.0255, Press 5
Email: [email protected]
Janet Gulla
Development Coordinator
Phone: 859.525.0255, Press 5
Email: [email protected]
Courtney (Barth) Hoffer '00
Alumni Coordinator
Public Relations Coordinator
BA in Radio and Television / History Minor
Phone: 859.525.0255, Press 5
Email: [email protected]
LEADERSHIP
Most Rev. Roger J. Foys, D.D.
Bishop of Covington
Dan "Boone" and Karen Riegler
Campaign Chairpersons
Fr. Gregory Bach
SHDHS Pastoral Administrator
David M. Otte
SHDHS Principal (retired)
Beckie D. Middendorf
Advancement Director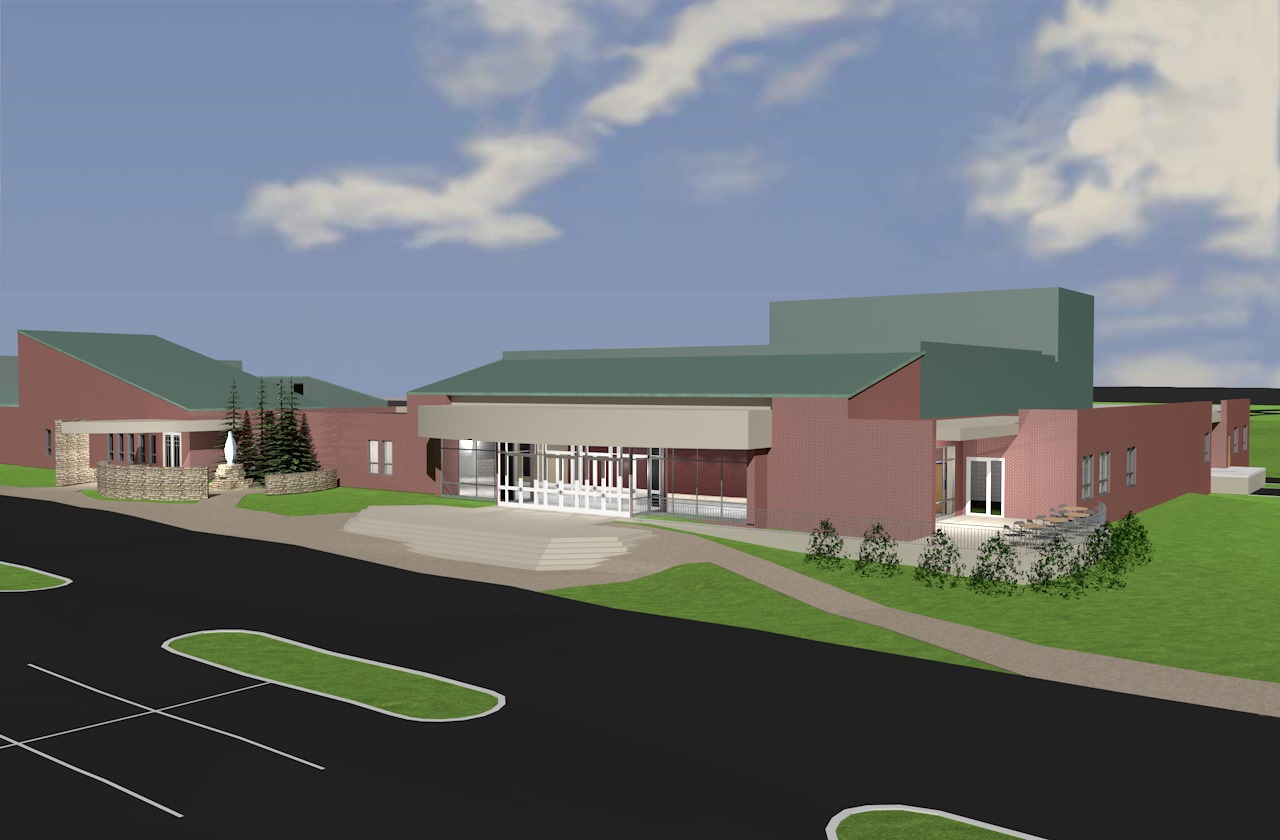 Plans for our expansion project currently include:
A 650+ seat multipurpose auditorium for hosting student performances, school assemblies, lectures, award banquets, community gatherings, and more. This auditorium will be the newest and largest auditorium in the diocese;
Classroom space to serve our Fine Arts department,

which includes band, visual arts, chorus, chamber choir, and drama;

A multi-purpose gathering/lobby area for hosting school and community events;
A dedicated art gallery for hosting student, as well as traveling, art displays;
An alumni gallery for displaying St. Henry memorabilia;
New office/meeting/workstation space for faculty and staff.
New office/meeting space for our Advancement Department;
A beautiful Grotto to serve as an outdoor campus sanctuary.
Expanded  upgraded space within the current school building to serve an enhanced STEM curriculum;
New office/meeting space for our Guidance Department;
SHDHS knows that this vision will only be made possible through the prayers and financial support of many. The steering committee is currently working to gain financial support from individuals and foundations at the top two giving levels:
"Major Gifts" ($25,000 and above)
"Special Gifts" ($10,000 and above)
The final giving phase, which will seek support from the entire community, is set to begin in the fall of 2017. If you would like to participate, either through the volunteering of your time or a financial gift, please contact SHDHS Advancement Director Beckie D. Middendorf at [email protected] or 859.525.5848.
Table of Giving (5 Year Pledge Period)
| Level | Monthly | Quarterly | Semi-Annually | Annually |
| --- | --- | --- | --- | --- |
| $10,000 | $166 | $500 | $1,000 | $2,000 |
| $25,000 | $416 | $1,250 | $2,500 | $5,000 |
| $50,000 | $832 | $2,500 | $5,000 | $10,000 |
| $100,000 | $1,666 | $5,000 | $10,000 | $20,000 |
There are several ways to invest in the future of St. Henry District High School, all of which are tax deductible. We invite you to participate in one or more of the following:
INVESTMENTS OF CASH
Commitments may be paid over a five-year period or any appropriate timetable. Spreading out the payment terms of your investment, with the option of making annual, semi-annual or quarterly payments, provides ultimate flexibility and might help you stretch to a higher level of support.
INVESTMENTS OF STOCK OR SECURITIES
Gifts of stock, one-time gifts or multiple gifts over a period of years, are an ideal vehicle for both you and St. Henry District High School. In gifting appreciated stock, you avoid all capital gains taxes, receive full benefit of a charitable contribution and provide us with a significant and immediate gift. Please contact the SHDHS development office for transfer instructions.
INVESTMENT THROUGH A DEFERRED OR PLANNED GIVING VEHICLE
Planned gifts provide a great source of funding for the long-term health of SHDHS. Giving through an estate provides a gift of a lifetime. Life insurance, annuities, trusts, or investing through your will are excellent ways to make a lifelong testimony to an institution that has profoundly impacted your life.
We invite your participation through planned or deferred giving as a secondary way to support this important campaign. Let us know your intention so we may provide the appropriate letter of intent for your signature.
*St. Henry District High School is a 501(c)(3) charitable organization. This information is not intended as financial or tax advice. Consult with your financial or tax adviser to determine specific tax implications and the right strategy for you.
Sponsorship Opportunities
| SPONSORSHIP OPPORTUNITY | Minimum Donation |
| --- | --- |
| NEW FINE ARTS WING | $1,000,000 |
| AUDITORIUM | SUBSCRIBED |
| STAGE | $500,000 |
| LOBBY / GATHERING AREA | SUBSCRIBED |
| NEW SCIENCE CLASSROOM /LAB (1 OF 2) | SUBSCRIBED |
| NEW SCIENCE CLASSROOM (2 OF 2) | $100,000 |
| BLACK BOX THEATRE / DRAMA CLASSROOM | SUBSCRIBED |
| GUIDANCE OFFICES | $100,000 |
| ADVANCEMENT OFFICES | $100,000 |
| NEW ART CLASSROOM (1 OF 2) | SUBSCRIBED |
| NEW ART CLASSROOM (2 of 2) | $100,000 |
| NEW BAND CLASSROOM | $100,000 |
| NEW CHORAL CLASSROOM | SUBSCRIBED |
| NEW AAIMS CLASSROOM | $100,000 |
| GENERAL CLASSROOM (3 Available) | $100,000 |
| ART GALLERY | SUBSCRIBED |
| ALUMNI GALLERY | SUBSCRIBED |
| GROTTO | SUBSCRIBED |
| NEW STUDENT PRINT CENTER | $50,000 |
| SCENE SHOP | SUBSCRIBED |
| CONCESSION | SUBSCRIBED |
| BOX OFFICE | SUBSCRIBED |
| MURAL RECOGNITION (Multiple) | $10,000+ |
| THEATRE SEAT COMMEMORATIVE PLAQUE (multiple) | $1,000+ |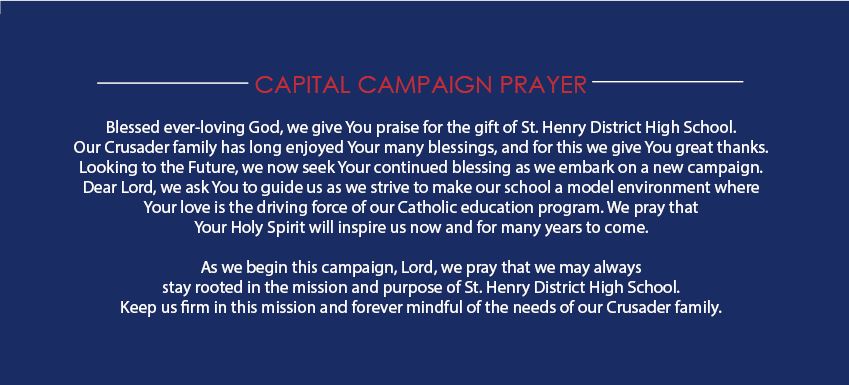 Steering Committee
Mike Arthur
Mike Esselman
Don Meihaus
Bob Nields
Stephanie Renaker-Jansen
Beth Sweeney
Dan Tobergte
Building Committee
Kevin Collins
Chris Cook
Vic Boelscher
Chris Berling
Jim Berling
Steve Berling
Tom Erpenbeck
Dan Middendorf
Scott Millay
Mike Riegler