Written by Chris Mayhew for the Cincinnati Enquirer. This is the link to the original story that was published on June 30, 2017.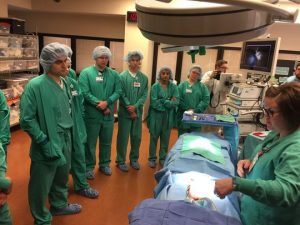 St. Elizabeth Healthcare whisked 10 high school students into surgical masks and scrubs for a dose of operating room career inspiration this week.
A wide grin beamed from 2017 Ryle High School graduate Samuel Forlenza's face as he watched a surgeon show him how a heart bypass is done.
Heart disease made the Union resident want to become a doctor.
"My father suffered a heart attack when I was in seventh grade," Forlenza said.
Forlenza recognized the signs of a heart attack from Boy Scouts of America training. He called 911. His father survived the heart attack. Forlenza thought about how he could have done more than call 911.
"I wanted to do more than just recognize the signs of a heart attack and take him to the hospital," he said.
Scrubbing in to watch a surgeon typically requires medical training.
Putting high school students inside operating room surgeries and to watch emergency room doctors work took a "Moon" shot.
St. Elizabeth's Dr. Ryan Moon remembered how volunteering in an emergency room during college gave him the "passion pill" to become a doctor.
"I spent a Friday night from 10 p.m. to 2 a.m. and with all the chaos, misery and happiness I decided at that point that that's what I wanted to do," Dr. Moon said.
Getting top grades isn't something Dr. Moon did before deciding to become a doctor. Studying hard and putting in hard work is something Dr. Moon said he did after he found his passion.
Dr. Moon decided he wanted to give high school students interested in working in medicine their shot too, regardless of whether they had the grades.
"We've never done this before, this young a group going into the emergency room or the operating rooms," he said.
If one student catches that "passion pill" for medicine at an earlier age it may set them up for lifelong success, Dr. Moon said.
More than 75 students wrote essays in the spring with letters of recommendation from teachers or family for the 10 spots in the new Medical Observation Opportunity Network (M.O.O.N.) program.
Dr. Moon didn't name the program.
St. Elizabeth's health care career coordinator, Lois Post, said Dr. Moon explained his passion for giving youth their own firsthand medical experiences. Dr. Moon "reluctantly" agreed to put his name on the program acronym, Post said.
"I still remember reading that email and tearing up and saying we cannot not do this program," Post said.
Inside the operating rooms, wooziness overtook two students as a surgeon pulled out a vein pulled from a cadaver leg lying mostly covered under a blue surgical wrap. Forlenza leaned in closer despite the trace of a grimace on his face.
St. Elizabeth will announce applications for future M.O.O.N. experiences through area high school counselors and online starting as early as this fall.
M.O.O.N. students
• Alec Ballman of Covington Catholic High School in Park Hills
• Kyle Casson of Simon Kenton High School in Independence
• Samuel Forlenza of Ryle High School in Union
• Brendan Hansen of St. Henry District High School in Erlanger
• Disha Kalyan of Conner High School in Hebron
• Miranda Massmann of Lloyd Memorial High School in Erlanger
• Madison McCauley of Notre Dame Academy in Park Hills
• Evan Moon (Dr. Moon's son) of Covington Catholic High School in Park Hills
• Elicza Day of McAuley High School in College Hill, Cincinnati
• Bridget Wall of Notre Dame Academy in Park Hills